that's maybe good to spend New Year's EVE watching
TV show "60th Kouhaku Utagassen"
at Home, but it seems exciting to join New Year's EVE concert; VINTAGE×DI:GA 2010 in Shibuya Tokyo for example. this show starts 16:00 and finish at 26:00.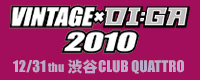 VINTAGE×DI:GA 2010 presented by DISK GARAGE 30th Anniversary
http://www.diskgarage.com/sp/live-diga-series/
12/31(thu) shibuya CLUB QUATTRO
the pillows, 9mm Parabellum Bullet, avengers in sci-fi, UNCHAIN, Qomolangma Tomato, the telephones, VOLA&THE ORIENTAL MACHINE, THE MIRRAZ, UNISON SQUARE GARDEN, sakanaction and more.
sakanaction - 1000&0
http://www.youtube.com/watch?v=dTRLVB8UHt4
the pillows - Good Morning, Good News
http://www.youtube.com/watch?v=N05L5sQ8RNU
9mm Parabellum Bullet - Black Market Blues
http://www.youtube.com/watch?v=h1AVzVkUzgA
Avengers In Sci-Fi - Save Our Rock
http://www.youtube.com/watch?v=IOrg7B8xIUk
UNCHAIN - Brighter Days
http://www.youtube.com/watch?v=cuSmN2TIvBY
Qomolangma Tomato
http://www.youtube.com/watch?v=00OTOVBOwws
the telephones - sick rocks
http://www.youtube.com/watch?v=ryIUuvqH8ao
VOLA&THE ORIENTAL MACHINE - Turning Turning
http://www.youtube.com/watch?v=n2liDrVSx0U
THE MIRRAZ - 5.5.5st
http://www.youtube.com/watch?v=UEW1ROlM1l8
UNISON SQUARE GARDEN - sentimental period
http://www.youtube.com/watch?v=SjwMTno8IKc
VOLA & THE ORIENTAL MACHINE - Turning Turning