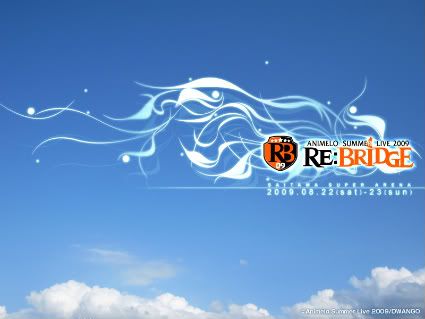 Animelo Summer Live
http://anisama.tv/
This Year's "Animelo Summer Live"; Big Anime Festival called ANISAMA will be held on 22nd and 23rd August at Saitama Super Arena!! it will gather over 50,000 otaku audience. that's fine.
http://pc.animelo.jp/rebridge/en/
ALI PROJECT, Ayane, angela, Beat Mario (COOL&CREATE), Chiaki Ishikawa, ELISA, GRANRODEO, Halko Momoi, JAM Project (Hironobu Kageyama, Masaaki Endo, Hiroshi Kitadani, Masami Okui, Yoshiki Fukuyama), Kanako Ito, manzo, Mamoru Miyano, May'n, Minami Kuribayashi, Minori Chihara, Aya Hirano, Chihiro Yonekura, Faylan, FictionJunction, Kenji_Ohtsuki & zetsubou syoujotai, Masami Okui, Eriko Nakamura・Asami Imai・Mayako Nigo from THE IDOLM@STER, Nana Mizuki, PSYCHIC LOVER, savage genius, Suara, Tomoe Ohmi, Yui Sakakibara, Yukari Tamura yohseiteikoku, and MORE singers appear there. SUGOI.