LITE
http://lite-web.com/
http://www.myspace.com/liteband
This summer, Tokyo Based instrumental experimental ROCK BAND "LITE" get to Play at one of the Biggest Summer Music Festivals; Summer Sonic in Makuhari, Chiba.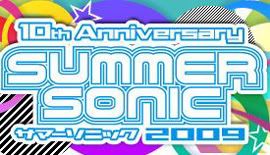 Grizzly Bear - Two Weeks
Summer Sonic 2009
August 7(Fri), 8(Sat), 9(Sun) 2009
TOKYO & OSAKA
Chiba Marine Stadium & Makuhari Messe and Maishima Osaka, JAPAN
http://www.summersonic.com/
Summer Sonic 2009 Headliners are MY CHEMICAL ROMANCE, LINKIN PARK, BEYONCÉ. NINE INCH NAILS, B'z, MOGWAI, 65DAYSOFSTATIC, THE ALL-AMERICAN REJECTS, KASABIAN, the HIATUS, ELVIS COSTELLO AND THE IMPOSTERS, SCHOOL OF SEVEN BELLS, MEW, CSS, THE FLAMING LIPS, GRIZZLY BEAR, LADY GAGA, DATAROCK and more bands appear!!
Datarock - Give It Up