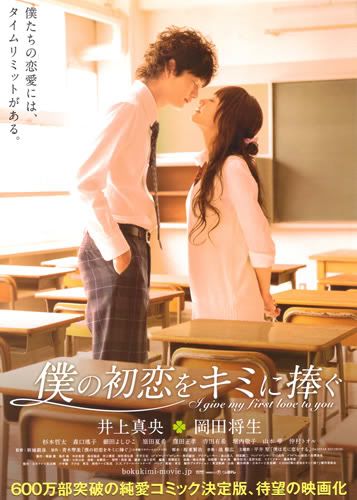 On 24th, this month, new romance movie, I give my first love to you will be open. it is based on over 7 million seller comics, Kotomi Aoki's shojo romance.
Actress Mao Inoue (Hana Yori Dango, Anmitsu-hime) plays a girl named Mayu who experiences first love with Takuma (Hana Zakari no Kimitachi e, Robo Rock's Masaki Okada), a boy being treated by her cardiologist father. Takuma tries to hide from Mayu the possibility that his heart will stop functioning at any moment after he turns 20 — even though Mayu already knows.
I give my first love to you
http://bokukimi-movie.jp/index.html
Takuma Kakinouchi, a boy who is told he will die before he's 20, and Mayu Taneda, a girl who falls in love with him.
The story begins when they are little kids. Mayu, whose father is a doctor, meets Takuma, who is hospitalized in her father's workplace. They develop feelings for each other, but Mayu learns of Takuma's grave illness and that he will die before he turns 20. The distraught children make one promise for an uncertain future.
Time passes, and the girl becomes a young woman, and the boy, a young man.
Mayu continues to support and love Takuma. On the other hand, Takuma, who knows his days are numbered, pushes away his feelings for Mayu and distances himself from her. He cannot stand to see her cry or hurt her more than he already has. Then Mayu meets another man who has feelings for her, and Takuma meets a woman who has the same illness, and their feelings for each other begin to waver.
Misunderstandings, unsaid thoughts, the frustrations and chagrin of youth. What will become of their love while the clock keeps ticking away in Takuma's life?
Ken Hirai sing the theme song for this movie, bokuwa kimini koiwosuru