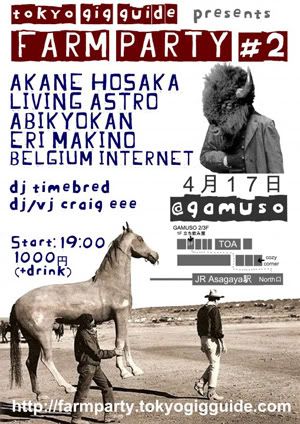 Tokyo Gig Guide presents FARM PARTY 2
http://blog.tokyogigguide.com/2010/04/tokyo-gig-guide-presents-farm-party-2.html
tokyo gig guide portal, tokyogigguide.com has a party at the wonderful little Gamuso Gallery Chroma in Asagaya on April 17th.
Akane Hosaka
http://www.myspace.com/akanehosaka
playful melodies reminding you of early electronic music pioneers meeting Takako Minekawa in a toy shop.
tsuma-saki
http://www.myspace.com/tsumasakimusic
minimal, gorgeous experimental electronic pop project of singer Eri Makino. Beautiful ambient music for toys
Tokyo Gig Guide presents FARM PARTY 2

http://farmparty.tokyogigguide.com/
April 17th 19:00
Gamuso - Asagaya
http://www.gamuso.com/
Live: Akane Hosaka, LIVING ASTRO, Abikyokan, Eri Makino, Belgium Internet (UK)
DJs: Timebred (Wild Mood Swings), dj/vj craig eee (Tokyo Gig Guide)
Keep on checking Jpoplover.........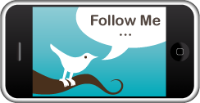 Follow Jpoplover on Twitter
http://twitter.com/jpoplover